Home Page
>
Products Page
#PC500 – Plate Cover
$6.50
Cover Dimensions: 3.4" Square X 9/32" Thick as Installed
Weight: 1.6 Ounces
Material: ABS Plastic – Dark Grey Color
SKU: 750-2
Category: Tools
The PC500 plate cover is a reusable sturdy plastic insert that snaps in to the rectangular hole in the center of our model 500B weld-in plate. With this cover in place, even the small hole in the 500B weld-in plate is sealed shut, making the Lock-N-Lift system even safer in situations where there is an expectation of a lot of foot traffic.
The cover can be snapped in place by hand, and can be easily removed with a screwdriver using the pry slots on the edge of the cover.
Lock-N-Lift is pleased to offer this cover to our customers as a way to take jobsite safety to the next level.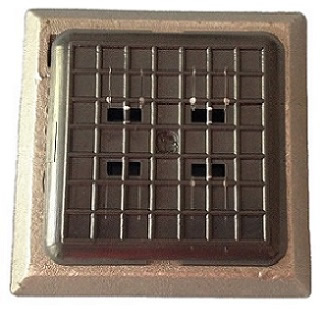 Questions? Send us a message!
Related products
Dimensions: 3-1/4″L x 2-1/4″ W x 4-3/4″H

Weight: 4.6 Pounds

Material: AISI 4340 Chrome-Moly Steel

Heat Treatment: Normalize, Quench & Temper Safe

Working Load: 8,000 pounds

Safety Factor: 5:1 minimum

$189.00

Dimensions: 3-1/4″L x 2-1/4″ W x 4-3/4″H

Weight: 4.6 Pounds

Material: AISI 4340 Chrome-Moly Steel

Heat Treatment: Normalize, Quench & Temper Safe

Working Load: 8,000 pounds

Safety Factor: 5:1 minimum

Dimensions: 3″L x 2-1/4″ W x 4″H

Weight: 3.75 Pounds

Material: AISI 4330 Chrome-Moly Steel

Heat Treatment: Normalize, Quench & Temper

Safe Working Load: 8,000 pounds

Safety Factor: 5:1 minimum

$189.00

Dimensions: 3″L x 2-1/4″ W x 4″H

Weight: 3.75 Pounds

Material: AISI 4330 Chrome-Moly Steel

Heat Treatment: Normalize, Quench & Temper

Safe Working Load: 8,000 pounds

Safety Factor: 5:1 minimum

Dimensions: 4-1/2″L x 4-1/2″ W x 5/8″ Thick

Weight: 2.2 Pounds

Material: WCB Steel Per ASTM-A216

Heat Treatment: Normalize

Safe Working Load: 8,000 pounds

Safety Factor: 5:1 minimum

$30.00

Dimensions: 4-1/2″L x 4-1/2″ W x 5/8″ Thick

Weight: 2.2 Pounds

Material: WCB Steel Per ASTM-A216

Heat Treatment: Normalize

Safe Working Load: 8,000 pounds

Safety Factor: 5:1 minimum